Switzerland has four official languages: German, French, Italian and Romansh. The largest part of Switzerland speaks German; well, two kinds of German are used: Swiss German and High German. High German is official language and is used in newspapers, TV, etc., but Swiss German is commonly used by people. High German is taught at schools, but it's unnatural to speak to each other and if they speak High German, they usually use Swiss German accent. According to the locals it is often even hard to understand Swiss German for native German speakers from Germany. Swiss German has many dialects, they don't know how many, but it's a lot and because of also different accent it's sometimes hard to understand even for Swiss people each other, if they came from distance regions of Switzerland, especially some Alp's villages.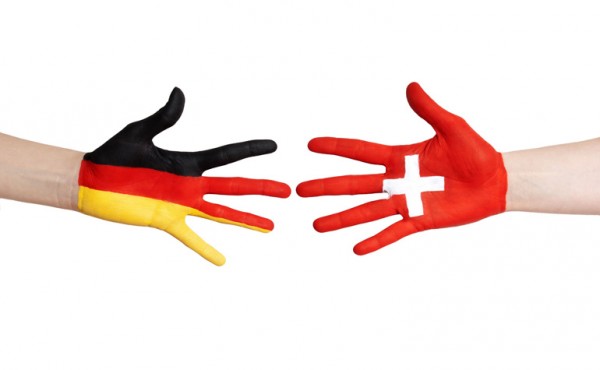 There are many differences, like in future tense, articles in front of names, completely different words like my favorite "velo" for a bicycle and many other, just Google it or find live examples on YouTube, there are many of them. Switzerland also leads the way in Europe when it comes to multilingualism; Swiss people usually speak many languages.
For non-Czech readers, this is actually similar to Czech language in the Czech Republic. We have many local dialects too. If meet people from east and west of CZ, they might have problem to understand each other. Sometimes it needn't to be completely different dialect, but only particular words, that are used only in one region and it's not known elsewhere. Interesting fact also that Czech people can understand people from Slovakia without considerable difficulties. Czech and Slovak are essentially different languages, but despite it we understand each other.
I don't want to write so much about German language, because I don't know it. I was learning German many years in the past, especially on my basic school and also one term at the University, but actually, I never used German outside school, so I forgot mostly everything.
Fortunately, everyone in Switzerland can speak English and it looks like on better level then I. If you need to ask someone, buy something, talk to bank clerk, handle anything, you can always use English. Yes, once he rather called his colleague, but it's not necessary to be everywhere everyone with perfect English. English can speak everybody, from young to probably 75 years old man. One time, somebody stopped me at the street and asked me for something in German, when I told him, I don't speak German, he immediately switched to English and repeated his question – he asked me for money for food, so I was quite surprised.
Sometimes I get into funny situations, like last week when some nice young lady stopped me on the street and started to speak very fast German, so I've interrupted her that I don't understand German. She just responded "On no, why?" and began to laugh. We made a short small talk and then I left, because she was offering something I wasn't the right potential customer.
Another hilarious episode was while I was shopping in Migros. I was looking for some cheap rusk. Everything was quite expensive, except one package of 6 rolls for only I guess 0.85 CHF next to the others expensive. After I ate 4 of them, I realized, they should be put into the oven and are only pre-baked. Well, I ate the remaining 2 and I never buy them again, but I think they tasted good.
When we were in the Steak House, I asked the waiter, if it would be possible to get menu in English. For the waiter, there was no problem, but for me, there was almost no difference. I realized, I don't know right English terms for cow parts. I even rather asked, if beef is from a cow. I'm usually confused of meat names even in Czech language. So I chose my beef steak randomly and tasted great. It wasn't the first time, when I was choosing meal randomly or when I didn't know, what I am eating. So far, I was lucky and everything was great or at least good, which is quite surprising, because I'm sensitive on what I eat.
After these two months, I've brushed off my German and began to appear some German words in my head. Partially because of my work, sometimes I get some work-related documents in German and partially because I'm trying to learn it a bit. I take several times a week evening print of free local newspaper Blick and I try to read it. It's not easy, often I don't understand much, but sometimes I surprisingly get meaning of some article. Yesterday, I was proud on myself, because I was able to read whole flyer about historic tram rides in trams.
It's not necessary to speak German, if you want to go to Switzerland on a vacation or on an internship – especially an IT internship, where in English the main language. But it's probably mandatory to learn German, if you want to relocate here permanently. At least a bit.